This year, more than ever, we've seen how drastically life can change virtually overnight. Energy and motivation waxes and wanes for ourselves and our clients. As these days of uncertainly continue to stretch, how we address our clients also needs to change. Having a 90 Day Marketing Plan will help.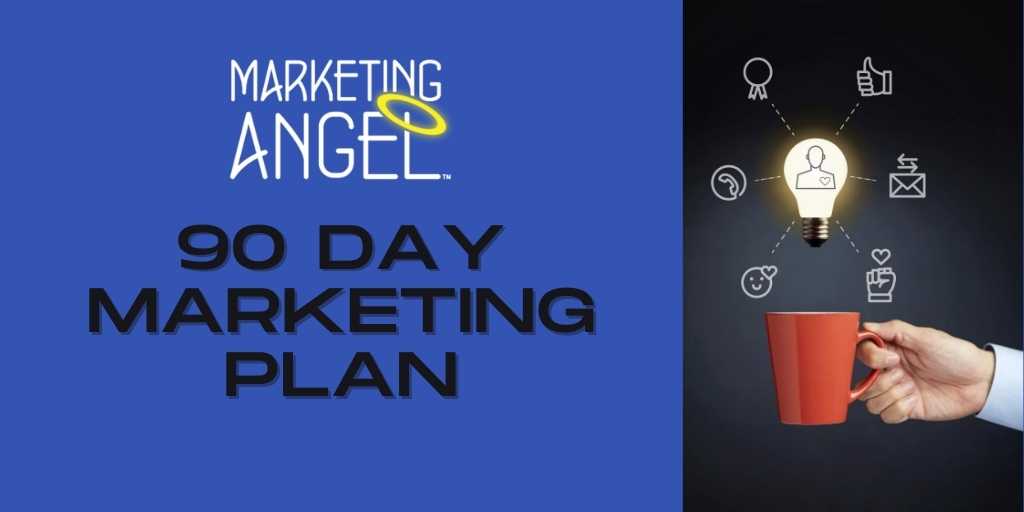 We- and they- are recognizing that familiar marketing methods aren't always most effective during these isolating times. Try using this 90 Day Marketing Plan.
Lack of authenticity is transparent.
Yet stepping outside our own comfort zone- when they're already stretched- to create new marketing tactics and plans can feel daunting… unless you have a plan.
Not only will a 90-day marketing plan provide clarity for your months ahead, but it also allows the opportunity to test new methods in smaller, approachable trials.
Before jumping into Day 1 of the 90 Day Marketing Plan, take a few moments (or days) to refamiliarize yourself with your own industry since the onset of COVID-19.
What changes have you had to make?
How has your physical and/or emotional space changed?
Has your product/service usage/necessity changed?
Does your product/service now provide different/new solutions?
What is your client's level of panic, stress, or calm?
Use these 90 ideas in order or as a monthly checklist.
Some prompts will likely take you out of your comfort zone, share your un-ease with clients. Admitting that a live video or posting a personal story makes you nervous is relatable! Connecting through stories and authenticity is paramount.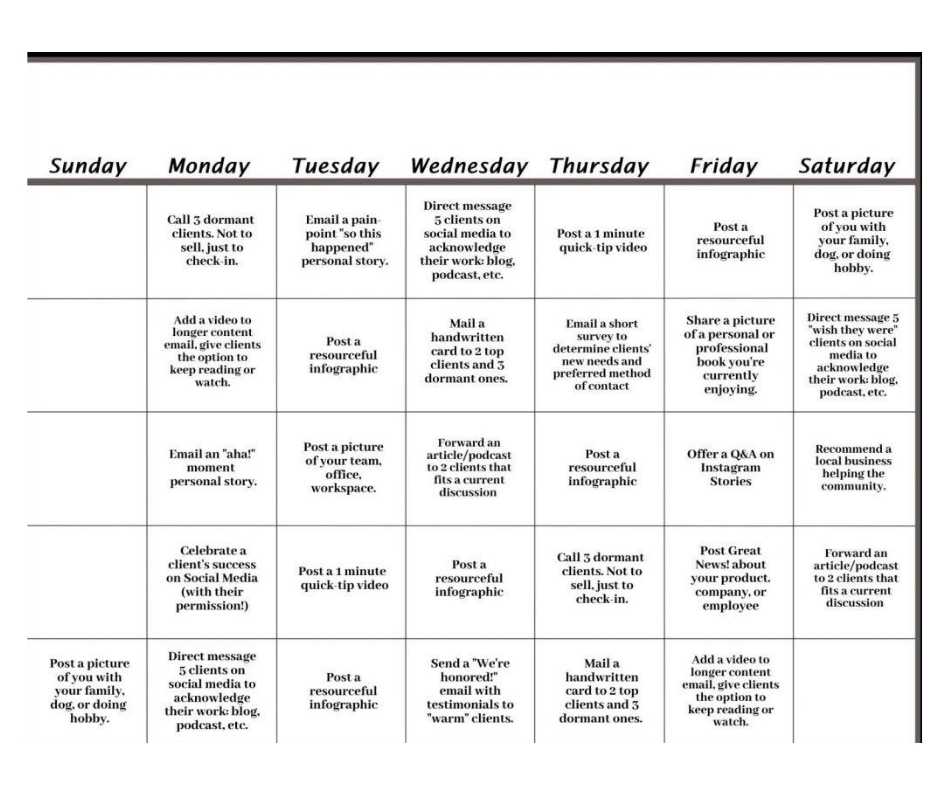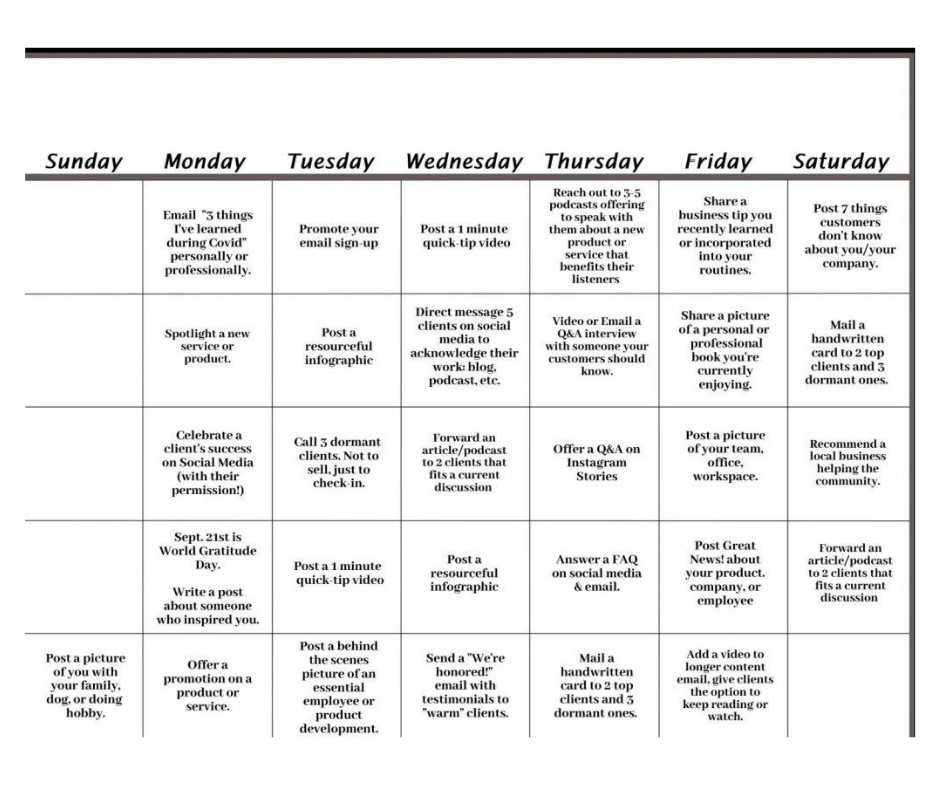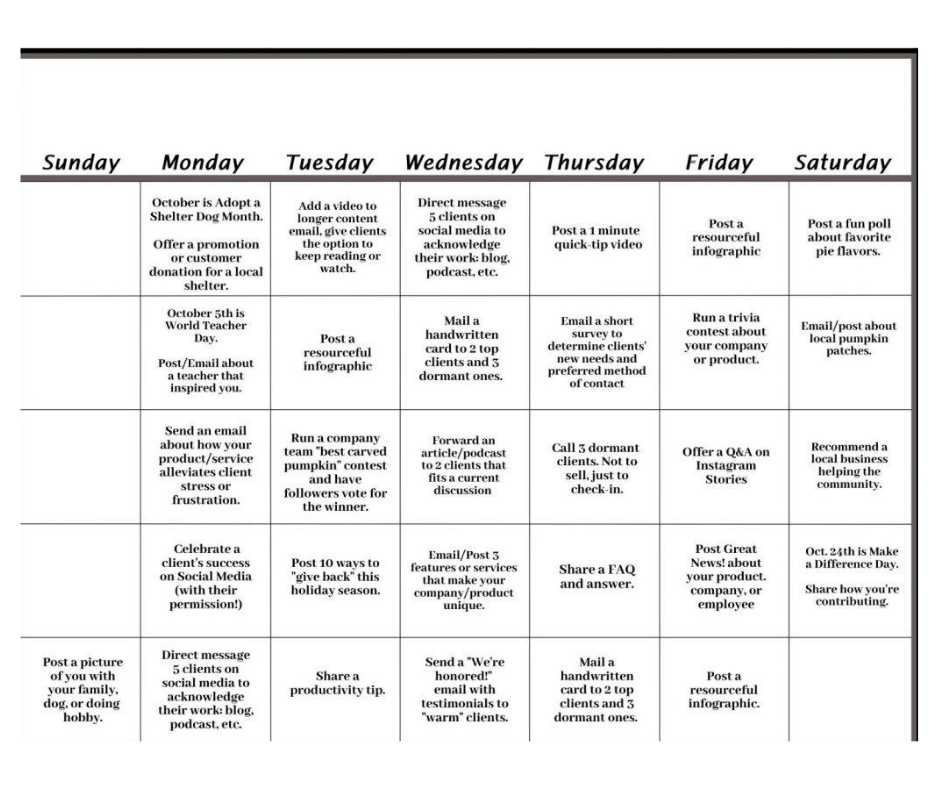 You'll also discover that current (and new) clientele respond to various platforms. Clients that rarely open emails might be more interactive on social media. Save yourself time by scheduling social media posts (via Facebook Creator Studio, Canva, or Buffer. Filming a video? Record two or three so they're ready to schedule.
Keep track of which prompts inspired the best responses while using this 90 Day Marketing Plan.
Keep in mind, it may take a few tries to become comfortable with new platforms. Consistency is important.
About the Author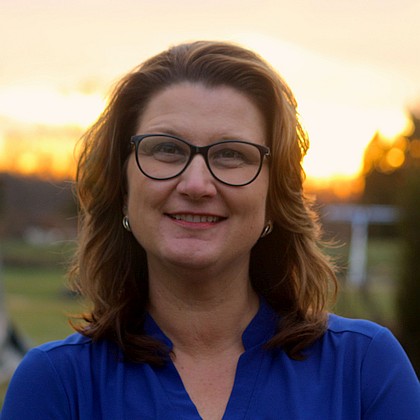 Angel Lebak is the owner of Marketing Angel – Social Media & Online Marketing for Business. Marketing Angel is a virtual marketing team serving clients worldwide since 2009.
Angel's passion for small business AND the admin/marketers who serve them, is seen in one of her ventures: Business Marketing Angels. This monthly membership allows business owners and their admin/marketing team members to get monthly topic training and weekly support for marketing questions they may have.
Hiring Angel – Recruiter: Office Assistant, Admin, Marketing Recruiter Services. From Job Description through the Interview Process in as fast as two weeks! Is it challenging to find the RIGHT hire for the RIGHT position? Office Admin, Marketing Team Member, Administrative Assistant, and more.
Angel also offers Marketing Coaching and Consulting for companies on their current online marketing trends. Angel's reputation precedes her and she is one of the rising voices in the admin and marketing arena. Feel free to contact Angel and her team of marketing ninjas here.