Social media is one of the best ways to engage with your potential customers.
Social media also keeps your business in front of current customers and clients. While each one of the social media platforms like Facebook, Twitter, Instagram, Pinterest, Google+, and LinkedIn is not complicated, they can be time-consuming. In order to keep up, you need to have the right tools to get the job done well.
These 7 tools can help you succeed at social media for your business:
Buffer
Buffer is a social media scheduling program. Write posts in Buffer and let Buffer share the posts on each social media platform according to the time schedule you create. Each social media platform can have a unique time schedule. Buffer gives you a consistent social media presence without having to be in front of a screen at all times. Using Buffer frees up your time to engage with your social media following which is the most important aspect of social media. Many businesses mistakenly think that if they have Buffer they can just wind up their social media and watch it go. This is not true! Without engagement, social media will not work for your business.
Trello
There are a lot of little tasks to keep track of when you are keeping up with social media for your business. Trello can help you organize those tasks by topic. Trello is like an interactive to-do list. You can assign tasks to team members. You can click and drag a task to show that it is complete.
Canva
You can capture more attention on social media when you use graphics or photos as opposed to using just text. You can design high-quality graphics through Canva. Canva has built-in templates that make it easy. It also gives you the ability to use stock photos or you can upload your own. Whenever possible, use your own photos. Social media followers want to see what's actually happening in your business! Although there is a free version of Canva, I'm confident you will want the paid version. The magic resize alone is worth the price. With magic resize you can take the image you create for one platform and with the click of a button it will be automatically resized to fit the required dimensions for another social media platform.
Google My Business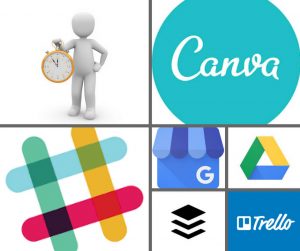 Google My Business is not the first thing that comes to mind when you think of social media for your business, but lately, there have been some new features added. Google My Business used to be like a static yellow pages listing. Now Google has added the ability to post photos, events, updates, and a profile. This is something you will want to keep on top of with the other social media platforms especially since it is by Google. It is important to maximize every opportunity given by Google if you want to be seen online. Click here for a Google My Business Social Media Cheat Sheet.
Slack
Slack is a fast communication app that is a game changer for many small businesses. Use this messaging tools on your smartphone for quick communication with your social media manager or your digital marketing team.
Google Drive
Each social media platform is a little different. The post that works on Instagram does not always work on Twitter. What works on Twitter will not necessarily work on Facebook. You need to have a plan. Create an editorial calendar on Google Drive and share the documents with your team. Google Drive makes content communication easy. In order to use Google Drive, all the team members will need a Google account.
15 Minute Time Flash
Each business day take a 15-minute time flash where you engage on one platform that you want to learn about. My suggestion is that you start with LinkedIn. LinkedIn is underutilized by businesses. It is a great place to share articles and blog posts to get your name recognized by potential customers and by Google. Find someone in your area of business who has a large following on the social media platform you want to explore and watch what they do.
Social media is a powerful tool for your business, but it can be overwhelming and time-consuming even with helpful tools.
Assistant Angel is here to help you develop a social media and digital marketing strategy. We want to take the overwhelm out of social media so you can run the business you love. Schedule an appointment with me to get started on a personalized digital marketing plan.
About the Author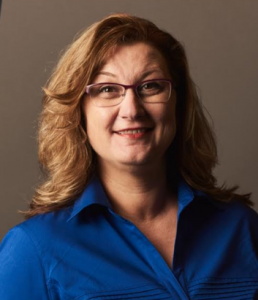 Angel Lebak is the owner of Assistant Angel – Digital and Social Media Managers.  Assistant Angel is a virtual marketing team serving clients worldwide since 2009.
Angel's passion for small business AND the admin/marketers who serve them, is seen in her latest venture:  Business Marketing Angels.  This monthly membership allows business owners and their admin/marketing team member to get monthly topic training and weekly support for marketing questions they may have.
Angel also offers Marketing Coaching and Consulting for companies on their current online marketing trends.  Angel's reputation precedes her and she is one of the rising voices in the admin and marketing arena.  Feel free to contact Angel and her team of marketing ninjas here.